In 2009, 44.3% of the global beverage market was occupied by plastic packaging, and metal packaging accounted for 55.7%. With the increasing use of plastic bottles, especially the promotion of PET bottles, its market share will continue to grow. If environmental protection technologies are promoted, both economic and social effects will be extremely significant.

In the Expo Coca-Cola "Happy Workshop", all visitors can receive a limited edition "Botanical Eco Bottle" Coca-Cola beverage. Turn the lid of the "Botanical Bottle" slightly, then close it quickly, invert the bottle quickly, and flip it back. The magic happens - the liquid coke appears ice.

Coca-Cola staff explained that the principle of this interesting change is that when the cola is placed at minus 2.2 degrees Celsius, the cola will remain liquid. But when the Coke bottle is partially opened and shaken, some colas will quickly condense into small ice crystals.

In fact, in addition to this gimmick "magic", the "Cosmic Green Bottle" was more popular among tourists in the Coca-Cola Pavilion. The bottle looks ordinary, but in fact it is different from the 100% use of petroleum derivatives in traditional plastic bottles. Its composition incorporates 30% of plant fibers. Plant fiber can make bottles into biodegradable materials and then 100% recycled. In Coca-Cola's view, the use of this environmental technology represents the direction of the future development of beverage bottles.

However, so far, this "small build, big secret" bottle can only exist in the Expo site and cannot be marketed.

The reason for this is above all the cost. Wang Min, marketing manager of the World Expo Project Group at Coca-Cola Company, said that the market for environmentally friendly plant materials has not been large enough to form a scale effect, and the cost of plant environmental protection bottles has not yet been controlled to the point where it can be widely promoted to the market.

In addition to costs, raw material supply is also a problem. The current production of such plant fiber raw materials - bagasse - can not provide a stable supply of domestic. Coca-Cola told reporters that although there are many large-scale sugarcane production bases in China, the company has not been able to find a stable supply source in China. At present, the production of plant fiber bottles is mainly in India.

According to statistics, China has an annual output of 10 million tons of sugarcane bagasse, and its main use is papermaking and fuel. "We very much hope to find a suitable supplier of raw materials in China. After all, this is a very valuable technology for the environment and can be further promoted." Coca-Cola staff said.

Although the plant environmental protection bottle can only be used as a display at the moment, at the end of April, Coca-Cola has already introduced another environmentally friendly bottle, the "ice dew" environmental protection lightweight bottle, to some Chinese markets. The 550Ml bottle bottle weighs only 9.8 grams. It is the lightest in the same volume plastic bottle on the market, and it is about 35% lighter than a normal plastic bottle. It can save 35% of carbon emissions. In addition, since the bottle can be screwed into a small "thorn" after use, it saves 70% of the recycling space.

Compared with "plant green bottles," lightweight bottles also have their shortcomings - the bottle is relatively soft, and there are relatively many problems to be solved in the overall packaging and transportation process. Wang Min said, "In order to support environmental protection, there is concession in the firmness of the bottle, which requires the concept of environmental protection and low carbon to support people's consumption behavior."

Data show that in 2008, the price of PET bottles in the bulk trading market was 8,000 yuan/ton. By 2010, the price of PET plastics had risen to 1.1~1.2 yuan/ton. Coca-Cola promised that by 2015 packaging utilization will be 7% lower than in 2008. If one billion green light-weight bottles are produced each year, according to this calculation, in addition to reducing carbon emissions by 16,400 tons, it can also bring tens of millions of yuan in cost to the company.

As consumers, it is relatively easy to change some consumption habits and make concessions for low-carbon life. However, as a company, if the investment in an environmental technology can not produce benefits, it will undoubtedly greatly reduce the vitality of the technology. Vice President of China Coca-Cola Li Xiaoxi told reporters that the current cost of lightweight bottles is indeed slightly higher than the average bottle, but as a mature technology, when it gets large-scale production, it can also save considerable cost for the company.

Oven Crispy Basket/Tray is made of Food-grade PTFE, reinforced by Strong Teflon Material, which is a brand-new product for Non-stick and Crispy solution, would keep your food always crispy.

This basket could apply to Oven or BBQ, help you lift and turnover the food easily!

And this Crispy basket is FDA & LFGB & CA65 Certificated, our factory is BSCI Audited also!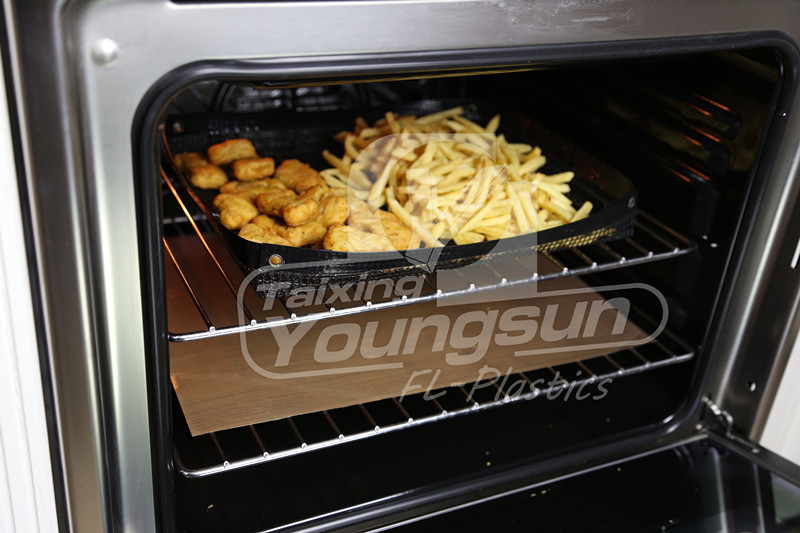 Oven Crispy Basket/Tray

Oven Crispy Basket,Oven Crispy Tray,Pizza Mesh Tray,Mesh Baking Tray,Non-stick Basket,Non-stick Oven Basket

Jiangsu Esone New Material Co,.Ltd , https://www.cookware-manufacturer.com