I. Introduction

As we all know, nanotechnology is a high technology developed in the world in the last 10 years. It has received great attention in many fields of science and technology, and its application prospects are very promising. In particular, the application of nanotechnology in the field of materials engineering is even more successful. The so-called nanomaterial is a material composed of a crystal grain size of 1 to 100 nanometers (negative 9 square meters of 1 nanometer=10). Since the crystal grain size is much finer than that of a conventional material, it is in the grain boundary thereof. The number of atoms above the number of atoms inside the crystal grains gives the nanomaterials many exceptional properties. Compared with conventional materials, in addition to excellent mechanical properties, nanomaterials also exhibit better physicochemical properties, including optoelectronic, electromagnetic and thermal properties. Therefore, the industry has given extensive attention and attention to this.

Similarly, in the packaging industry, the research on nano-packaging materials has also received great attention. Countries such as Europe, America and Japan have invested a lot of human and material resources in research and development, and have achieved remarkable results. As we all know, the negative barrier property of packaging materials has always been an important performance in both hard and soft packaging, because the shelf life (shelf life) of packaging products is directly related to this performance. In order to improve the negative barrier properties of packaging materials (mainly polymers), many modified studies, composite studies, and processing processes have been performed on polymers of this polymer structure for many years, and remarkable results have been achieved. It is on the basis of a large amount of research that there are now hundreds of kinds of plastic packaging barriers developed in the world and have achieved a wide range of applications. However, there is still a considerable distance to make the barrier of this material to the level of a glass container or metal film. At present, the results of nanotechnology theory and applied research have opened up a new way to further improve the negative barrier properties of packaging. This article will introduce a class of polymer-based nanocomposites under development. The goal of the research is to enable packaging materials to achieve a new level of barrier properties while improving overall performance through nanotechnology.

Second , the basic principle

According to the basic theory of nanotechnology, it can be seen that incorporating nanoscale particles into the interior of a polymer lattice can improve the strength, stiffness, and barrier properties of the material. At the same time, compared with other conventional filled polymers, nanomaterials have very little particulate loading. Nanometer-sized particles, such as montmorillonite clay, can significantly reduce the permeability of the base material. The main reason for this is based on the fact that the filling of the plate-like silicic acid layer in the material hinders the ability to disperse molecules in the material diffusion channel, thereby increasing the barrier property of the material. In this polymer-clay nanocomposite, clay has good mechanical properties and thermal stability, while organic compounds have good processability.

Silica gel layer groups belonging to the natural state are smectic clays, which are commonly known as "swelling clays" because their structure has the ability to absorb ions and other polar ions. Colloidal clay material is composed of two A tetrahedral silicon layer is fused to an edge-connected octahedron to form a layer that is fused to an edge-connected octahedron-shaped aluminum layer, which is composed of overlapping layers of weakly dipolar and plastic. The force is separated and an intermediate layer or long channel is formed.In the Jiaoling soil, the octahedral side is mainly filled with aluminum ions, but some sides are filled with magnesium ions or other elements.Because there is magnesium ion on the octahedron side, The entire negative charge needs to be equilibrated with sodium ions or calcium ions to a small amount of intermediate layer cations, and these intermediate layer cations fill the space of the entire intermediate layer. This is the structural state of the nanoparticles formed by the Jiaoling clay material.

The lack of affinity between hydrophilic silicates and generally non-hydrophilic polymers makes it difficult to obtain uniform mixing. Natural rubber clay is a hydrophilic material that is incompatible with most organic polymer materials. By using organic cations instead of interlayer molecules on the gelled ridges. This cross-reaction of ions with phosphorus ions can form an organophilic surface. Ammonium ethanolate also provides a functional substrate that reacts with the polymer and improves the bonding of the interface between the polymer and the clay material.

The structure of nanocomposite polymeric materials may be divided into two types: sandwich type and lamellar type. In the former, a composite material of a multi-layered phase sandwich structure with a uniform arrangement can be obtained by inserting a single stretched polymer chain in the middle of each silicate layer. In lamellar or layered composites, the lamination between the layers is separable, and in a single silicic acid material, lamination between the layers is separable, and a single silicic acid layer is polymerized There are two synthetic methods in the matrix. One method is through in-situ polymerization, which involves the addition of a single polymer immediately after the polymerization; one method is to add the polymer through the solution. The addition of the polymer can also be achieved by using a method which can also be achieved by adding above the polymer, that is, by slowly cooling the mixture of the polymer and the nanoparticle at a temperature above the glassy temperature of the polymer. After forming a polymer molecular chain, it diffuses in the molten state of its material and integrates into the channel between the silicate layers. Polymer-silicate nanocomposites can be made from a variety of polymer materials such as polystyrene, polypropylene, polyamide (nylon), epoxy, and plexiglass.

Third, the main features

Polymer-silicate nanocomposites have excellent strength, stiffness, and barrier properties, and in addition, the amount of fillers contained in the former is much smaller than that of commonly used filler-type reinforcing polymers. In reinforced conventional polymers, the required inorganic filler accounts for approximately 20-30% (by weight), and for clay fillers in nanocomposites, at most only one-tenth of the total weight is sufficient to improve the material properties. This is mainly due to the large contact area between the clay and the polymer structure.

According to foreign studies, the 4.7% (weight component) of Jiaoling clay composites were compounded into Nylon-6 polymers. The tensile strength of nanocomposites increased from 68.6 Mpa to 97.2 Mpa, and the flexural strength increased from 89.4. At 143.0 MPa, the thermal transition temperature increased from 65 to 152, and the increase in the heat distortion temperature means that the range of applications for this material is greatly expanded. Some scholars' research results show that the increase in deformation resistance of nanocomposites is due to the existence of a strong interaction between the polymer matrix and the clay filler, and the large surface area of ​​the silicic acid particles forms the physics. status.

Due to the long molecular chain size of the polymer matrix in the polymer matrix, the nanocomposite material is usually also transparent. Some scholars have demonstrated through experiments that the polyimide with 2% (weight component) of colloidal clay has the same transparency as the original polyimide. In addition, the results of further studies show that if the above-mentioned amount is further increased, the transparency will decrease and gradually turn yellow.

The permeability of the nanocomposites is significantly lower than that of the native polymers. The reason for this is that the sheet-like silicic acid layer interspersed in the polymer lattice structure blocks the flow ability of the diffused molecules. The presence of the silicic acid layer in the polymer structure greatly increases the diffusion path of the diffusion molecules, and in the silicon The network around the acid fat also reduces people's permeability. Some researchers have described that polyamide-gelatin nanocomposites have a high barrier to moisture. According to the results of some studies, polyimide-gelatin nanocomposites formed using 2% (by weight) colloidal clay have less than half of the permeability of pure imide for oxygen, helium, and water vapor. However, the function of nanoparticles is obvious.

Fourth, application prospects

Because nanomaterials have better properties than other similar materials, they broaden the range of applications. According to information, a variety of nano-polymer composite materials have been successfully developed and have been used in automotive, marine and electromechanical components. Undoubtedly, the high barrier properties of the nano-packaging composite materials introduced in this article will be favored and valued in the packaging industry because such materials are firstly suitable for so-called barrier packaging. This type of barrier packaging has a wide range of applications. It will be used in the packaging of foods and pharmaceuticals, precision mechanical parts, electronic and electrical components, etc. It can also be used as sealing cap liner parts and so on. Other potential applications for polymer nanocomposites have been reported, and researchers are developing nanocomposites for aircraft cabins and fuel tanks to improve flight safety and reliability.

The annual consumption of metal beverage cans in the world uses a lot of mineral resources. While improving the performance of metal packaging, efforts to reduce the consumption of materials and reduce processing costs have always been the goals pursued by the packaging manufacturing industry. The plates required for beverage cans have now been developed into so-called third-generation nano-sized plates. The diameter of tin-plated particles is only about 100 nanometers. The volume and amount of tin plating are greatly reduced, and the new plate is easy to process and shape, and the operating parameters range is relaxed. In particular, the improved welding sealability makes it a high-grade metal can plate. According to another report, the Swedish National Packaging Research Institute is studying polyamide-gelolin nanocomposite films and is intended for food packaging that requires long shelf life. The polymer substrate they use is a biodegradable semi-crystalline thermoplastic polymer. Biodegradable polymer materials have always attracted people's attention and believe that this material is an effective method to solve environmental protection problems. In order to make such materials available for sale in the market, the polymer must also have improved barrier properties. Thus, researchers have come up with the idea of ​​using nanotechnology, which can be achieved by fusing nanoparticles (choose metal, inorganic or organic) into the polymer lattice structure. In this way, the application of biodegradable packaging materials can be expanded and a good market competitiveness can be achieved.




Reprinted from: International Vacuum and Thin Film Network

Mini Stretch Film rolls measuring 100mm (width) x 150 metres (length)
Made from high quality film
films to itself without adhesives for a professional looking wrap
Residue free, great for bundling small loads or as an alternative to strapping/tape


Available in clear or black, depending on your application

MINI stretch film wrap picture as below: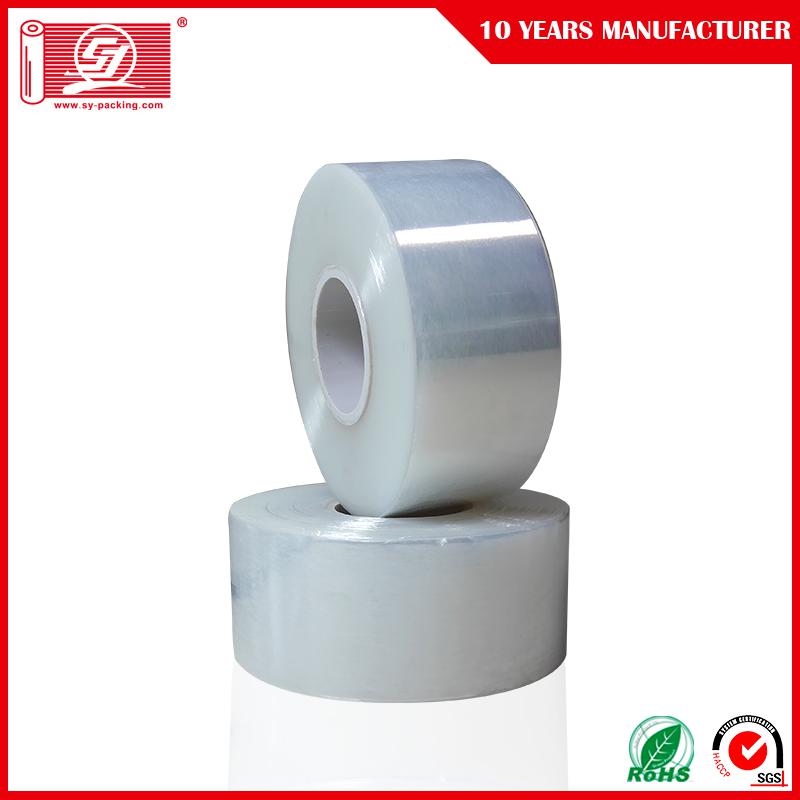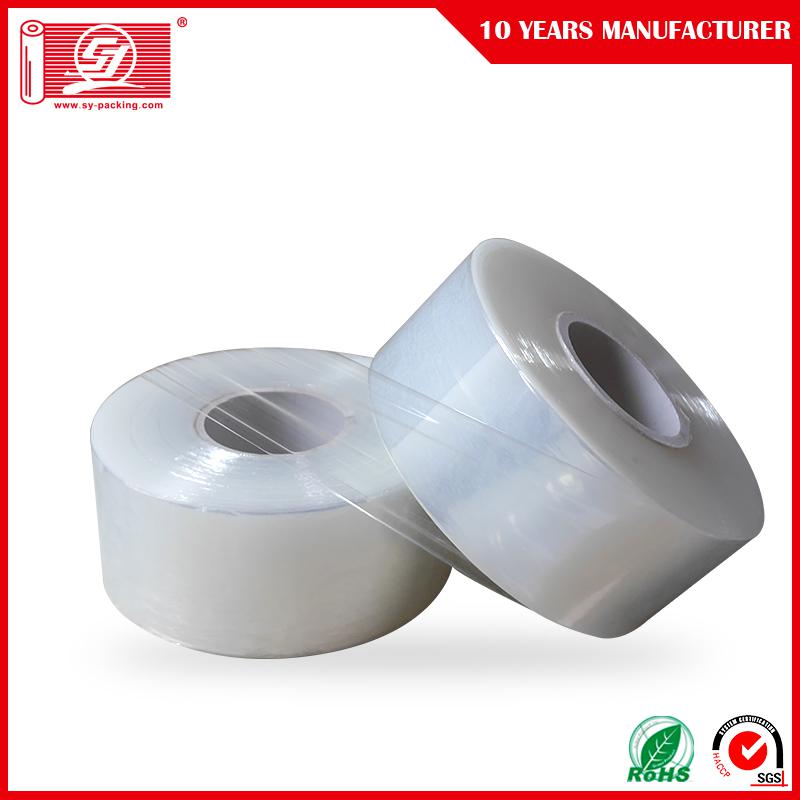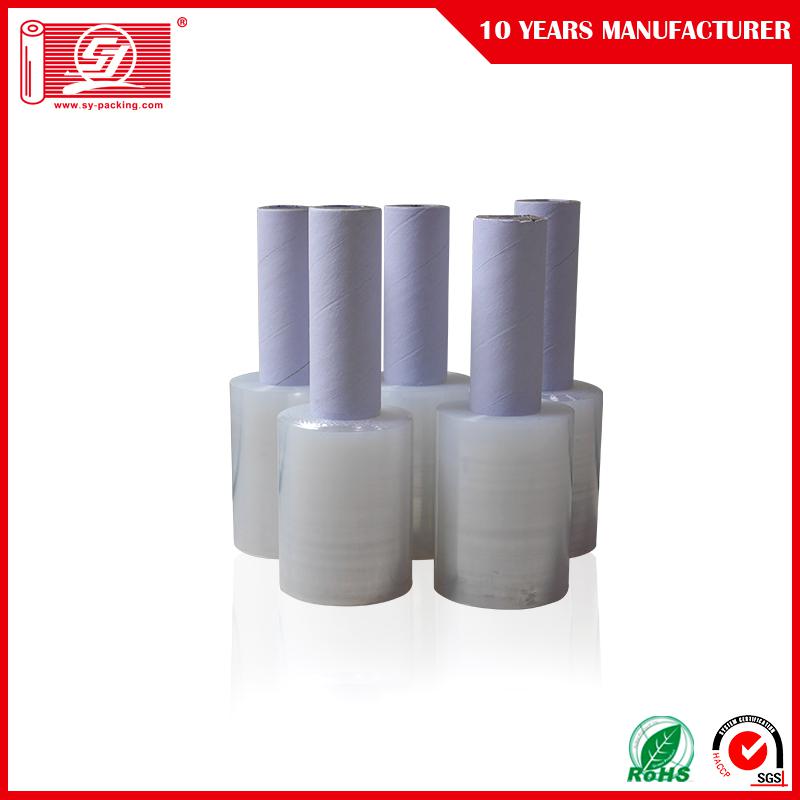 Product Description

100%LLDPE pure material
Used for pallet wrap, office&family used
Excellent puncture&High transparent
Smooth Surface & Cutting
Paper core 0.3kg-0.8kg &diameter 2"/3" offer printing core


About us
Shenzhen shuangyuan packaging material CO., LTD. Was established in September 2009, and also has a registered company in Hong Kong.It is a company engaged in packaging material development and sales, mainly engaged in packaging products stretching film and adhesive tape.After many years of development, now has the scale, modernization, specialized packaging material production enterprises.The company has the right to import and export, the production products through the EU TUV, SGS and other environmental certification.Our products have been sold to more than 50 countries and have good reputation at home and abroad.Based on the principle of "customer first, quality is the principle", the company has established and improved a strict quality standard inspection system, and committed to production of environment-friendly, scientific and modern packaging materials.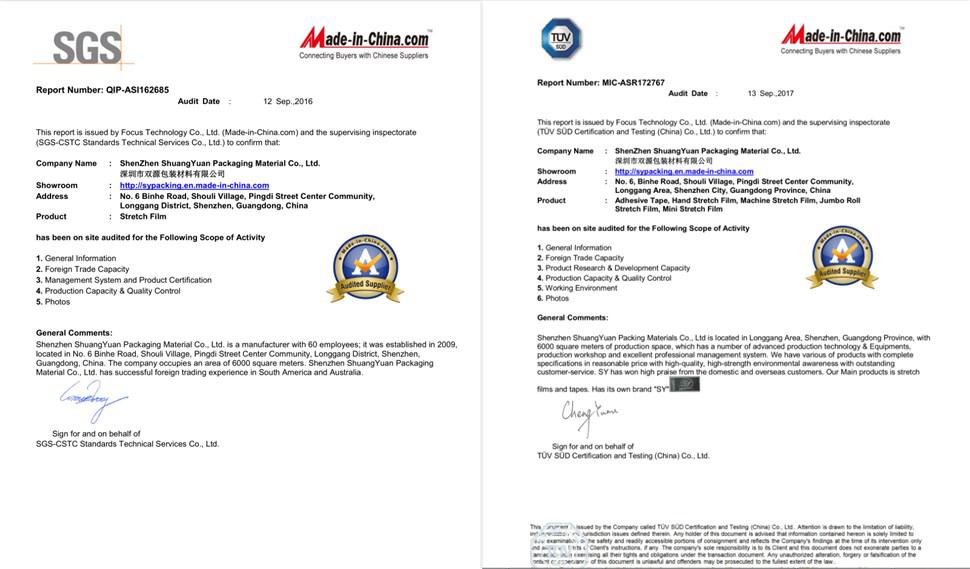 FAQ:

What advantage of our company?
Our stretch film material LLDPE is imported from Exxon Mobil and DoW.
Our Bopp Packaging Tape material is bopp film with acrylic adhesive which are imported from Taiwan.
We can do super thin stretch film. Pre-stretch Film . special film. super Clear Tape , crystal tape, no bubble tape, low noise tape, easy tear tape. No noise tape.
We can offer print of paper core and carton mark.
We have designer for customer designing packaging ways or new artwork.
We have good quality and good service.

What exhibition we were enjoy?
Canton Fair, Paper World Fair, Dubai Fair, Frankfurt Fair, we will invite you if we have exhibition BOOTH NUMBER.
The canton fair picture as below:

What can I do for you?
1, Our designer will make carton and label design for you as your requirement, then send to you for confirmation.
2, We will add all item picture in the PI for avoiding any mistake of your order.
3, We will update every step for you once we start your order,
4,We can offer printing paper core and shipping mark for you as your requirements.
5, We will booking the vessel for you when it is going to be finished.
6, We will inform you that detail ship date once we get the information.
7, We will update the vessel information(ETA&ETD) for you.
8, We will send original document to you once we get your payment.,
What Kind of production we have?
Our company production including bopp Packaging Tape , bopp stationery tape, LLDPE Stretch Film. Hand Use Stretch Film. Machine use stretch film. Colorful Stretch Film. Special stretch film. Pre-Stretch Film tape, super thin stretch film. Masking tape, double sided tape. Double sidefoam tape, warning tape, PVC insulation tape, Aluminium foil tape. Kraft tape, reinforced Gummedkraft paper tape. Gummed kraft paper tape. Invisible tape,PVClane marking tape. Picture as below:
How to make order to us?
Enquiry: contact us by email, phone call, fax, Instant tools (Trademanager, Skype) and let us know your enquiry.
Discussion: specify the items you desire, confirm specification; OEM/ODM consultation.
Quotation: Prices offered and accepted.
Place order as per contract or discussion.
Proforma invoice offered to double confirm the order for both-side records.add picture for easy confirm and more exact as your requirement,
Payment settled.
Order completed under our arrangement.
Send process production picture for you to avoid any problem.
Booking the vessel when will finish the goods.
Goods shipped as per contracted term.
Send loading documents to you with the each term picture and loading picture.
Goods arrive at local port or warehouse, depending on contracted term.
Support & re-ordering.

How about our trade term?
Payment: 30% T/T DEPOSIT PAYMENT IN ADVANCE, BALANCE AGAINST COPY OF B/L, WESTERN UNION, L/C.
Production Lead Time: 25-30DAYS AFTER DEPOSIT PAYMENT.
Shipping Methods: OCEAN VESSEL.
FOB Shipping Port: YANTIAN,/ SHEKOU , SHENZHEN, MAINLAND CHINA.
If you want to deal with EXW/CIF/CNF term instead of FOB, please specify. Otherwise, FOB price will be quoted under inquiry.
Mini Stretch Film
Mini Stretch Film,Mini Roll Stretch Film,Mini Customizable Stretch Film,Mini Hand Roll Stretch Film
SHENZHEN SHUANGYUAN PACKAGING MATERIAL CO., LTD. , http://www.sy-package.com