Model NO.: Basic Plus

Material: Non-Woven

Feature: Printed, Plain Woven, Embroidered, Disposale

Sap: Japanese Sap

Outer Packing Style: Bag/Carton

Materials: PE Film + PP Type

OEM / ODM: Available

Adl: Blue / Green/ White

User: Baby

Certificate: ISO, SGS, CE

Fluff Pulp: Imported From USA

Trademark: JoyLinks & OEM

Transport Package: Can Be Customized as Per Your Orders.

Specification: as per your specification

Origin: Quanzhou, China

HS Code: 9619001100

Model NO.: Basic Plus

Material: Non-Woven

Feature: Printed, Plain Woven, Embroidered, Disposale

Sap: Japanese Sap

Outer Packing Style: Bag/Carton

Materials: PE Film + PP Type

OEM / ODM: Available

Adl: Blue / Green/ White

User: Baby

Certificate: ISO, SGS, CE

Fluff Pulp: Imported From USA

Trademark: JoyLinks & OEM

Transport Package: Can Be Customized as Per Your Orders.

Specification: as per your specification

Origin: Quanzhou, China

HS Code: 9619001100

Disposable Baby Diaper Features:

1) Dual layer design of absorbent core.

2) Printed, Embosssed PE Film backsheet with wetness indicator.

3) Waterproof leg cuffs.

4) Acquisition Distribution layer in blue or white color.

5) PP sticky refastenable system (Frontal tapes with cute animal graphics)

Material

Soft non woven fabric top layer, absorbent padding with diamond shaped fluid channels, Super Absorbent Polymer- San-Dia SAP (Origin in Japan), Weyerhaeuser fluff pulp (Origin in USA), Water proof polyethylene backing, frontal tape with refastenable adhesive tape, wetness indicator.

FAQ:

1) MOQ: 1*40H container.

2) Payment Terms: T/T - 30% down payment before production and 70% balance will be released before shipment.

3) Lead Time: Shipment to be effected within 30 days after receipt of the T/T down payment.

4) Shelf life: 3 years.

5) Certificate: ISO, SGS, CE.

Remark:

*We can adapt our polybags (inner packing) to buyer's design, We can also arrange production as per buyers design to meet the needs of your market and the requirements of your customers, but there will be extra charge of printing cylinders incurred, which has to be borne by the buyer.

*Style, color, size, weight, material and packing can be customized as per your orders. OEM & ODM service is available.

*We would be happy to send you the sample of our products for your examination and valuation.
Specification of Baby Diaper:
Size
Packaging Specification
S
48 Pieces / Pack, 8 Packs / Carton, 1120 Cartons / 40' HQ Container, (FOB XIAMEN).
M
40 Pieces / Pack, 8 Packs / Carton, 1050 Cartons / 40' HQ Container, (FOB XIAMEN).
L
32 Pieces / Pack, 8 Packs / Carton, Â 1020 Cartons / 40' HQ Container, (FOB XIAMEN).
XL
24 Pieces / Pack, 8 Packs / Carton, Â 1170 Cartons / 40' HQ Container, (FOB XIAMEN).
Disposable Baby Diaper Features:

1) Dual layer design of absorbent core.

2) Printed, Embosssed PE Film backsheet with wetness indicator.

3) Waterproof leg cuffs.

4) Acquisition Distribution layer in blue or white color.

5) PP sticky refastenable system (Frontal tapes with cute animal graphics)

Material

Soft non woven fabric top layer, absorbent padding with diamond shaped fluid channels, Super Absorbent Polymer- San-Dia SAP (Origin in Japan), Weyerhaeuser fluff pulp (Origin in USA), Water proof polyethylene backing, frontal tape with refastenable adhesive tape, wetness indicator.

FAQ:

1) MOQ: 1*40H container.

2) Payment Terms: T/T - 30% down payment before production and 70% balance will be released before shipment.

3) Lead Time: Shipment to be effected within 30 days after receipt of the T/T down payment.

4) Shelf life: 3 years.

5) Certificate: ISO, SGS, CE.

Remark:

*We can adapt our polybags (inner packing) to buyer's design, We can also arrange production as per buyers design to meet the needs of your market and the requirements of your customers, but there will be extra charge of printing cylinders incurred, which has to be borne by the buyer.

*Style, color, size, weight, material and packing can be customized as per your orders. OEM & ODM service is available.

*We would be happy to send you the sample of our products for your examination and valuation.
Specification of Baby Diaper:
Size
Packaging Specification
S
48 Pieces / Pack, 8 Packs / Carton, 1120 Cartons / 40' HQ Container, (FOB XIAMEN).
M
40 Pieces / Pack, 8 Packs / Carton, 1050 Cartons / 40' HQ Container, (FOB XIAMEN).
L
32 Pieces / Pack, 8 Packs / Carton, Â 1020 Cartons / 40' HQ Container, (FOB XIAMEN).
XL
24 Pieces / Pack, 8 Packs / Carton, Â 1170 Cartons / 40' HQ Container, (FOB XIAMEN).
Consumers think that the automobile sun Umbrella thicker the better performance of anti ultraviolet radiation, in fact, such as the development of a series of paradise umbrella thin but very close fabrics, protective performance is far better than the general fabric; in addition, the performance of UV light color can be better reflecting the best, with silver white. The color depth will not affect the ability to resist ultraviolet radiation. The test shows that the color of umbrella surface has little effect on the protection effect, and the color light umbrella and the deep color umbrella have little difference in the transmittance of ultraviolet B.

Experts also remind consumers to recognize the anti UV performance signs. Domestic and international standards generally use UPF value for textile anti UV performance, that is, UV protection system value is evaluated. The UPF value is the ratio of ultraviolet radiation to the average radiation dose of unprotected skin, and the greater the UPF value, the better the UV protection performance. Provisions of the forthcoming national standard: only when UPF>30 and UVA, the transmission rate is less than 5%, can be called UV products, protection class label is UPF30+; while UPF>50, indicates that the UV protection excellent performance of the product, identified as UPF50+ protection grade.

On the market of automobile sunscreen products this summer, anti ultraviolet sun umbrellas are very popular. Consumers should grasp their characteristics in order to select a good umbrella, which is satisfied with the quality and operation.

1, appearance: in addition to the pattern before printing, box, solid, car sun umbrella again this summer launched a cartoon design, pastels series rather stylish.

2, choose umbrella surface: anti ultraviolet sun umbrella, there are two kinds of shiny and matte. Glossy umbrellas dominate the market.

3, pick umbrella: in addition to the common circular and triangular type Folding Umbrella folding car support Car Umbrella, sun umbrella car has launched a skeleton umbrella, are relatively easy to carry.

4. Wind resistance: the wind resistance of skeleton umbrella is relatively weaker than that of circular umbrella and folding umbrella.

5, security: round umbrella basically use anti-theft belt, into the door can be equipped with suction lock umbrella skeleton. Relatively, the anti-theft belt cost is much lower, and the cost of sucker lock is relatively high.

6, the new new advertising carrier, a new advertising channels.

7, practical: folding convenient, easy to carry, does not occupy space, effective protection of car interior aging and harmful substances in the car under high temperature volatilization.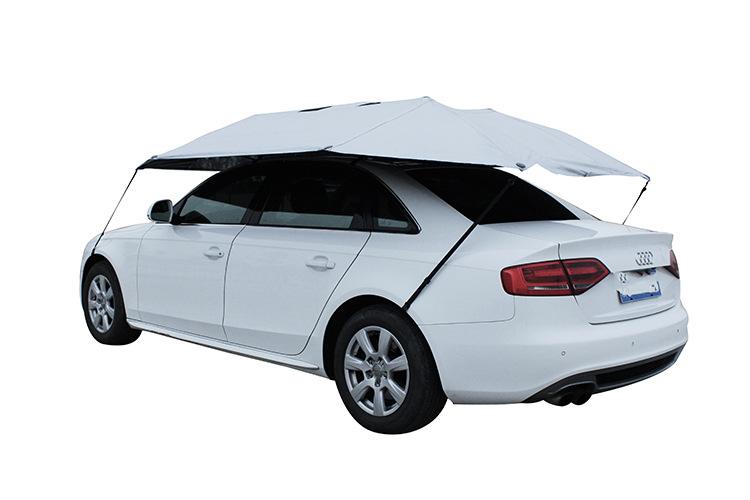 Car Umbrella

Car Umbrella,Car Cover Umbrella,Customized Car Umbrella,Reusable Car Umbrella

Ningbo Vesta Leisure Products Co., Ltd. , http://www.vesta-leisure.com